October is popping with local Medicare for All programs and actions.  Check out our Upcoming Events. 
Vote "YES" on Question 4.  Read about the Single Payer Ballot Question that will appear in six western Mass. districts on Nov 6th.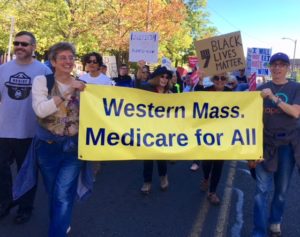 Western Mass. Medicare for All (WMM4A), launched in May 2017, is a regional network of groups and individuals advocating for a Single Payer health care system in our state and country.
Please join us as we build a strong grassroots movement to advance health care as a human right and to move single-payer legislation forward in the Commonwealth.  WMM4A coordinates activity among individuals and groups called "hubs" in Franklin, Hampshire, Hampden, and Berkshire Counties.  We provide organizing support and resources, and help connect newcomers with hubs in their local area.  Check out our blog for updates.
In addition to this website, WMM4A  hosts a Facebook page and a listserv keeping subscribers informed about Medicare-for-All events and meetings.  Our lively monthly meetings bring together Medicare-for-All advocates for updates, resource-sharing, discussion and action.
WMM4A works in coordination with other groups and coalitions in Massachusetts, including the Single Payer Strategy Forum, which is a statewide effort among organizers to develop a multi-year plan to build the movement and pass single-payer legislation in our state.
New folks are always welcome at WMM4A.  Please join us in this exciting campaign for social and economic justice!
Here are some ways to get involved: